The Best Deep Fryers To Buy Online In Australia

By Mitchell Fisher
Updated 19 Feb 2022
Deep fryers can be a lot of fun for making party favourites, weekend treats or trying to replicate meals from your favourite takeaway joint. We've compiled our top three deep fryer picks and we'll tell you exactly why they made the cut, plus a few tips for choosing the right one.
Best Overall Deep Fryer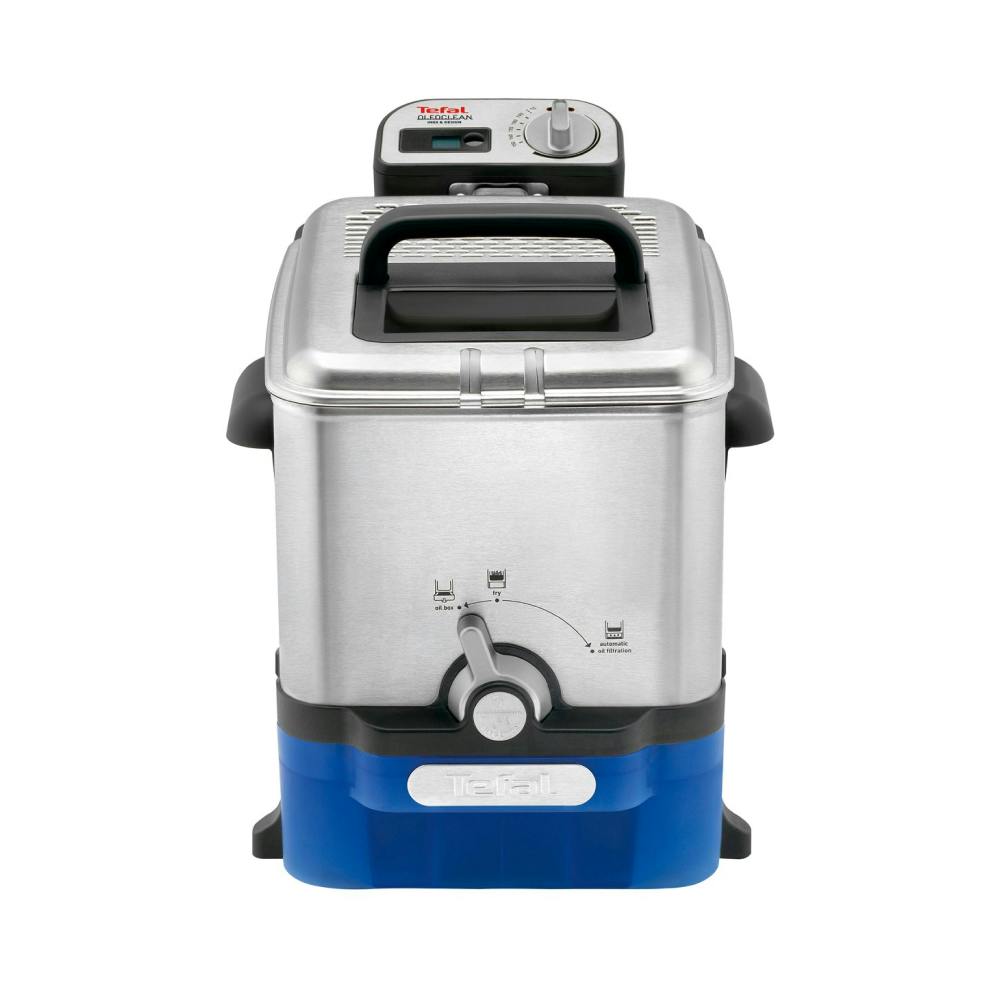 Tefal Oleoclean Pro Deep Fryer
Pros & Cons
Aside from the control unit, all of the parts are dishwasher safe
Built-in timer with display
The oil sleeve filters out most of the food particles and ensures that the oil remains clean
Some customers don't like the square shape of the basket handle
The viewing window is a bit small
The main reason why we consider this to be one of the best deep fryers that you can get is the sheer convenience it offers. The Tefal FR8040 comes with a basket that's washer-friendly, as well as an automatic oil filtration switch at the front, both of which make this device easy to clean. Additionally, after the oil cools down and is filtered into the oil pan, you can remove the compartment that's located just under the fryer and reuse the oil inside.
The price is also pretty reasonable for a fryer of this size. The device has a temperature range between 150℃ and 190℃, as well as an automatic shut-off feature that senses when the fryer is getting close to overheating after continual use and turns it off. This seemingly small feature can help preserve the circuitry and ensure that you'll be using this deep fryer for years to come.
Best Budget Deep Fryer
Kambrook 4L Deep Fryer
Pros & Cons
Easy to operate
Contains an anti-odour charcoal filter that eliminates smells
Removable heating element
Can overheats if used for long periods of time
Keeps heating the oil if left unsupervised
The Kambrook KDF560BSS is probably the most cost-friendly fryer that you can get. It's lightweight so it can be easily transported and moved, it has a selection of settings that are all easy to understand and use, and the 4L oil capacity is large enough to handle any sort of deep frying that you might want to do at home.
The topside vent has a filter that reduces unpleasant smells, and the little viewing window just below it allows you to check up on your food to see if it's nice and crispy. It can't run continuously for more than 30 minutes, and it can't reach quite the same temperatures as some other fryers on the market, but this is still a good choice for people that want to give deep fried home food a try but don't want to break the bank on an overly expensive fryer.
Best Smart Deep Fryer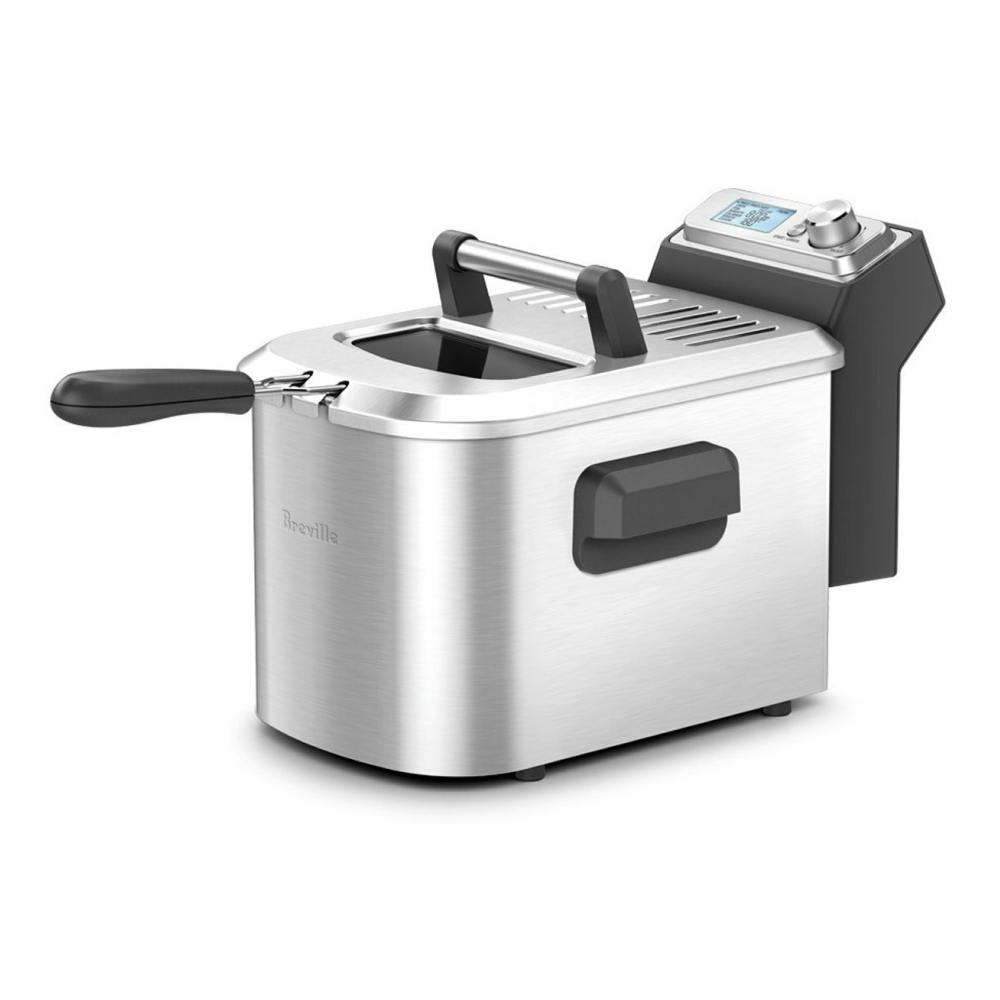 Breville The Smart Fryer
Pros & Cons
The LCD display shows the oil temperature during cooking
Settings for both fresh and frozen food
The filter is easy to remove and clean
Can't be used continuously for more than 45 minutes
The device is heavy and takes up a bit of space on the counter
This deep fryer offers 7 presets which allow you to simply switch the fryer to the fish, chicken, doughnut settings, or so on, and let the machine do most of the work for you. All you have to do is pour in the oil, set the timer and mode, close the lid once the food is inside the basket, and simply take out the deep-fried food once the device beeps.
The 2200W removable heating element allows you to fry up anything you put in the basket in minutes. However, the large heating element means that the device will take a bit more time than the standard fryer in order to reach and maintain the heat properly. This is only a delay of a few minutes, and honestly, it's not all that noticeable, especially when you consider the other upsides that the device has.
Best Deep Fryer Brands
While both brands are slightly different from one another, you can easily find great products in both of their catalogues. The main deciding factor is going to be what exactly you're looking for in a deep fryer.
Tefal is a good all-rounder when it comes to producing household deep fryers and choosing a device from their lineup is almost always going to give you something that has value for money and can do everything that a fryer should. Breville fryers, on the other hand, are slightly more high-end, and while you might pay a bit more for certain deep fryers, their products are sure to have a ton of useful features.
How to Choose the Right Deep Fryer
Most household-grade deep fryers have roughly the same oil and food capacity. The oil tank is usually between 3 and 4L, and the basket can take around 1kg of food. While this might not sound like much, we can assure you that you don't really need anything more than that.
Instead of focusing on the capacity, the things that you need to look out for are the price, the design, and the features. Make sure that the heating element and the other components are removable and easy to clean, and try to find a fryer that has at least a built-in timer or a few different food settings.
Cleaning Deep Fryers
Before you clean your deep fryer, you'll need to make sure that the heating element is off before disconnecting it. Then you can get the leftover oil out of the compartment by using the built-in filter or by soaking it up with a sponge if there is no filter. The final step is using a clean sponge on the heating element, the basket, and the inside of the fryer, and then going over all of them with a dry rag to make sure that there's no oil or moisture left.
Certain deep fryers have elements that can be cleaned in a dishwasher, but most of them will need to be hand-washed. Finally, we'd recommend cleaning your deep fryer after each use, but if you forget or feel lazy, then at least remember to filter the oil and do the proper cleaning routine the next day.
Using Oil in Deep Frying
Vegetable oil is a pretty popular choice for deep frying because it's considered to be a neutral oil that doesn't hide the flavour of the food and doesn't smell as strongly as other oils when expelled through the built-in filters. On the other hand, both olive oil and peanut oil are high in monosaturated fats, which makes them a slightly healthier alternative.
All of the oils will produce an odour to some degree and none of them are particularly healthy when consumed in excessive quantities, so we'd recommend trying out a few options to find what works best for you.
What Foods Can You Cook With a Deep Fryer?
There are places in Scotland where you can get a deep-fried Cadbury Crème Egg, and elsewhere you can find deep fried items ranging from Mars Bars to fruit. In other words, there really is no limit to what food you can put in the fryer as long as your stomach can handle it!
Popular picks for deep-fried foods are french fries, chicken, and fish. However, tofu, scotch eggs, and jelly doughnuts also make great recipes to try out, and while it may seem a bit unorthodox, you can definitely deep fry pickles, avocados, brussel sprouts, and other vegetables.